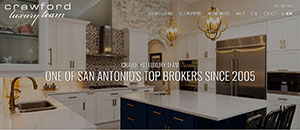 Announcing the launch of my new feature-rich real estate website serving the greater San Antonio real estate market.
I am happy to announce the launch of my website Crawfordluxury.com – your online resource for all San Antonio real estate! I always endeavor to provide clients with easy access to up-to-date listings and information impacting the real estate industry. My goal is to enable you make the right decisions about one of your largest investments, whether you are buying or selling a home.
This feature-rich website has everything you need to help you in your search for local homes for sale in San Antonio. Check out my featured San Antonio properties for sale. Have any questions about a listing or real estate in general then contact me by email or call (210) 380-5386.
What's My Home Worth?
As your local real estate expert let me help you with selling your home and getting top dollar. Fill our my free What's My Home Worth? evaluation form to start the balling rolling.
Have Questions?
Have any questions don't hesitate to contact me – your San Antonio real estate expert.